Ottawa Senators owner Eugene Melnyk is the absolute worst
There is no longer a debate. Ottawa Senators owner Eugene Melnyk is the worst owner in North American professional sports.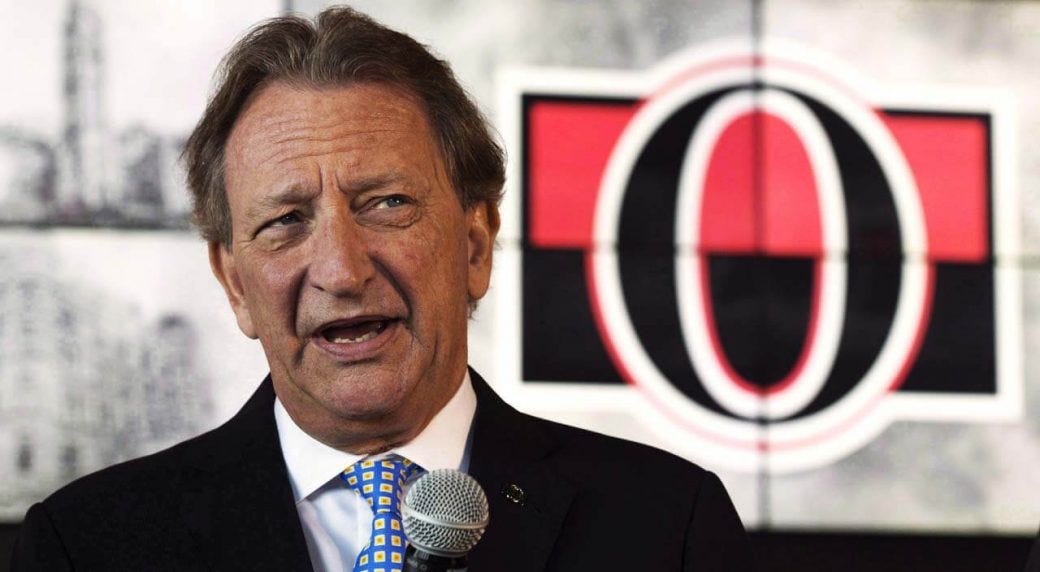 Photo Credit: Sportsnet
Team owners are, by definition, the personification of Mr. Burns from The Simpsons, except they're usually even more cheap and evil. It's impressive to be the worst owner in sports, but Ottawa Senators majority owner Eugene Melnyk is the reigning heavyweight champion of terrible owners. Yes, he's even worse than Dan Snyder. Melnyk even puts Mike Dolan and Jeffrey Loria to shame with his incompetence.
I'm not even going to touch on all of the off the ice stuff. Here's a terrific, detailed list of Melnyk's sketchy finances and off the ice shenanigans if you're interested. There's some pretty heavy stuff in there. But I'm here to talk about how Eugene Melnyk has completely ruined the Ottawa Senators.
Melnyk has taken a once proud franchise and removed virtually every source of joy and goodness from it solely to make a few more bucks. Since taking over as the Senators owner in 2003, the team ranks in the bottom 10 in regular season point percentage and 15th in postseason point percentage. His tenure has been defined by a few good years (2005-06, 2006-07, and I suppose you can count 2016-17 too) and a bunch of either mediocre years or really, really bad years. More so the former, but recent years have been tilted heavily towards the latter.
Recently, Melnyk has been especially awful. He has completely gutted a team that was a goal away from the Stanley Cup Final in 2017. Nobody except for Colin White and Thomas Chabot remain on the team, and they combined to play three regular season games for the Senators that season.
When the Senators were given an outdoor game, on what should have been a glorious day of celebration, instead of focusing on the game0 Senators were participating in, Melnyk threatened the fanbase for not supporting their team.
"If it doesn't look good here, it could look good somewhere else," Melnyk said. "But I'm not suggesting that right now. That's always the possibility with any franchise."

"I won't sell it. It just won't happen. Imagine if you own a McDonalds franchise, but you can move it. Why would you sell it? It's something that's very difficult to buy. We're doing OK here. We're not doing great."

"But I'm not going to blow a lifetime of working hard to support a hockey team. It's not going to happen."
Working hard doing what, exactly, Mr. Melnyk? Committing fraud? Committing fraud again and settling out of court? Having someone create Twitter bots to defend you? But I digress.
Team captain and two-time Norris Trophy winner Erik Karlsson, who gave his heart and soul to the franchise, was repaid with a joke of an extension offer in 2018 and was unceremoniously traded to the San Jose Sharks. While Melnyk actually managed to get a decent return, it was mostly due to a perfect storm hitting the San Jose Sharks at just the right time. This wasn't the first time Melnyk has disrespected a franchise legend. And it sure won't be the last.
Mark Stone was a potential future captain for the Senators. He worked his way up from being a sixth round pick to being a legitimate star forward. Stone's excellence and passion for hockey made him a favorite in Ottawa. Stone was deemed "too old" to receive a big long-term extension despite being just 26 years old at the time, so he was traded for an unimpressive return to the Vegas Golden Knights. Oh, and Stone signed a long-term extension quickly after the trade.
Mike Hoffman was traded for peanuts to the San Jose Sharks, who proceeded to trade him to the Florida Panthers a few hours later for a much better return than the Senators got from the Sharks. True, trading him was necessary after the fallout between Hoffman's fiance and Karlsson's family. But the Sharks have nothing meaningful to show for trading Hoffman, a proven goal scorer.
And how did Melnyk treat Jean-Gabriel Pageau, who was a fan favorite and a potential captain? Did he sign him to an extension? Nope! Pageau was traded to the New York Islanders at the 2020 trade deadline and quickly signed a reasonable extension with the Islanders — six years, $5 million cap hit per year. Melnyk couldn't afford that. Or rather, he didn't want to afford it.
Now, let's turn our attention to what he has done so far in the calendar year of 2020. We've already talked about mishandling Pageau and showing the fans he has zero respect for them. But let's talk about Bobby Ryan.
Bobby Ryan was originally acquired by Melnyk in 2013 in a trade with the Anaheim Ducks. Frankly, it's the only time Melnyk has aggressively tried to improve his team long-term other than in the draft (where he loves to find players and later trade them for peanuts).
Ryan, to no one's surprise, didn't live up to his massive seven-year deal worth $50.75 million. But he was still a useful, effective player until the 2019-20 season. In his first 16 games, Ryan has just four points, and three of those came in his first four games. On Nov. 21, Ryan entered the NHL/NHLPA player assistance program, which is designed to assist players with mental health issues, substance abuse, and similar things.
Later, it was revealed Ryan got assistance for alcohol addiction, or alcoholism. Addiction is a stigma that affects a lot of people. I've never experienced it myself, but from what I've gathered from talking to people who have dealt with addiction, to say it's hell is an understatement.
Ryan opened up publicly about his struggles. By showing his vulnerability, he inspired a lot of people. Ryan made his return to the ice on February 25 against Nashville on the road. In his first home game since his return, Ryan had one of the most magical, inspirational, and tear-jerking moments of the 2019-20 season by scoring a hat trick.
He won the Masterton Trophy on September 7th. Less than three full weeks later, Ryan's contract was bought out by the Senators. To make matters worse, Ryan wasn't even informed it was going to happen.
While the news this morning came as a bit of a shock,
Why didn't the Senators let Ryan know this was coming? Because that's what a professional, caring organization would do. Melnyk is not professional, nor is he particularly caring. I'm not alone when I say I hope Bobby Ryan scores a hat trick against the Senators next season. He deserved better.
Which brings us to the latest fiasco from Melnyk — letting Anthony Duclair, the Senators lone All-Star in 2020, test the free agent market. No, Duclair was not an unrestricted free agent. He was scheduled to become a restricted free agent, which meant the Senators still held his rights.
Instead of tendering a qualifying offer to their second-leading goal scorer from the 2019-20 season, the Senators elected to refuse to qualify him, making him an unrestricted free agent.
But why didn't the Senators want to keep Duclair? He's a perfectly good, relatively young goal scorer? And you have to spend money somewhere, right? Well…
I'd love to hear what the Senators idea of a "substantial raise" is. Regardless, not even tendering him a qualifying offer is farcical. Even if the Senators didn't want to keep him, why not trade him? At least get something for your best darn forward! And why would the Senators be afraid of an arbitration hearing? He wouldn't have gotten too much.
Maybe it would have been a good thing if Duclair got a "significant raise", considering the Senators, as of October 7 at 8:03 p.m. EST, have three forwards signed for next season. Yes, you read that correctly. The only Senators forwards who have a contract for the 2020-21 season are Colin White, Artem Anisimov, and Brady Tkachuk, who is still on his entry-level contract.
Ottawa has 10 players signed for the 2020-21 season. They have over $40 million of cap space and must spend at least $20,762,500 to reach the salary cap floor. So, remind me again, why in heaven's name would the Senators refuse to tender a qualifying offer to Anthony Duclair? How exactly are they going to spend over $20 million? Even after accounting for all of their restricted free agents, the Senators will still be at least $10 to $12 million short.
This, folks, is why Eugene Melnyk is the worst owner in North American sports. I don't follow soccer or other European sports leagues, but I can't imagine there's someone worse than Eugene Melnyk. He's more than cheap. Melnyk is actively destroying the Senators. And unlike Rachel Phelps from Major League and Major League 2, there's no Roger Dorn, Jake Taylor, Ricky "The Wild Thing" Vaughn, Lou Brown, or Pedro Cerrano to give the middle finger to Phelps and win the whole f***ing thing. If there were, Melnyk would probably get rid of them.